This aging flat, home for a couple and their two young children for years, has become too narrow overtime.  A smart makeover will work its magic!
Taking advantage of some cracks appearing on the ground, our clients emptied and left the apartment for a few weeks – the time for us to redesign their home.
If revamping the entire apartment was the primary mission, it was also essential to find efficient and aesthetic solutions to create new storage, optimize lost spaces and improve the living experience.
With a direct and open access to the living room, the entrance did not seem logical nor practical to us. We took our pens and drew different options, offering more privacy and a better flow circulation by simply rethinking volumes and space demarcations.
Anchored by its true function, the entryway now provides access to the kitchen and to the sleeping area while welcoming guests into the dwelling. We added a smoked sliding partition, allowing to close the space when needed, creating a hallway perspective and bringing a touch of elegance at the same time.
We suggested a full height, tailor-made closet that blends into the wall to create a real cloakroom. An idea that won our clients over immediately.
Storage was a real issue in the kitchen, which was also lacking practicality. We worked on the plans and added a kitchen island to create new storage units, add more countertop and generate a convivial link with the living room and the dining room.
Regarding the private parts of the apartment, bathrooms and toilets were kept in the exact same location but were entirely revamped: we created a masculine atmosphere in the shower, using anthracite tiles and opted for a soft, more feminine atmosphere in the bathroom with a furniture made of oak, a light and slightly textured earthenware, and an indirect lighting ambiance with the round-shaped mirror.
Our bête noire? Long, narrow, characterless hallways! So we decided to give this one a complete makeover. Hinged doors were replaced by sliding doors (coplanar opening) and a small laundry room was created in the old closet.
Finally, we picked a beautiful dark color paint for the walls and the ceiling and created a smart lighting design with rotating spotlights to give this space character and a cozy atmosphere.
From flat to full, the apartment went under a complete and colorful makeover that helped revealed its charisma!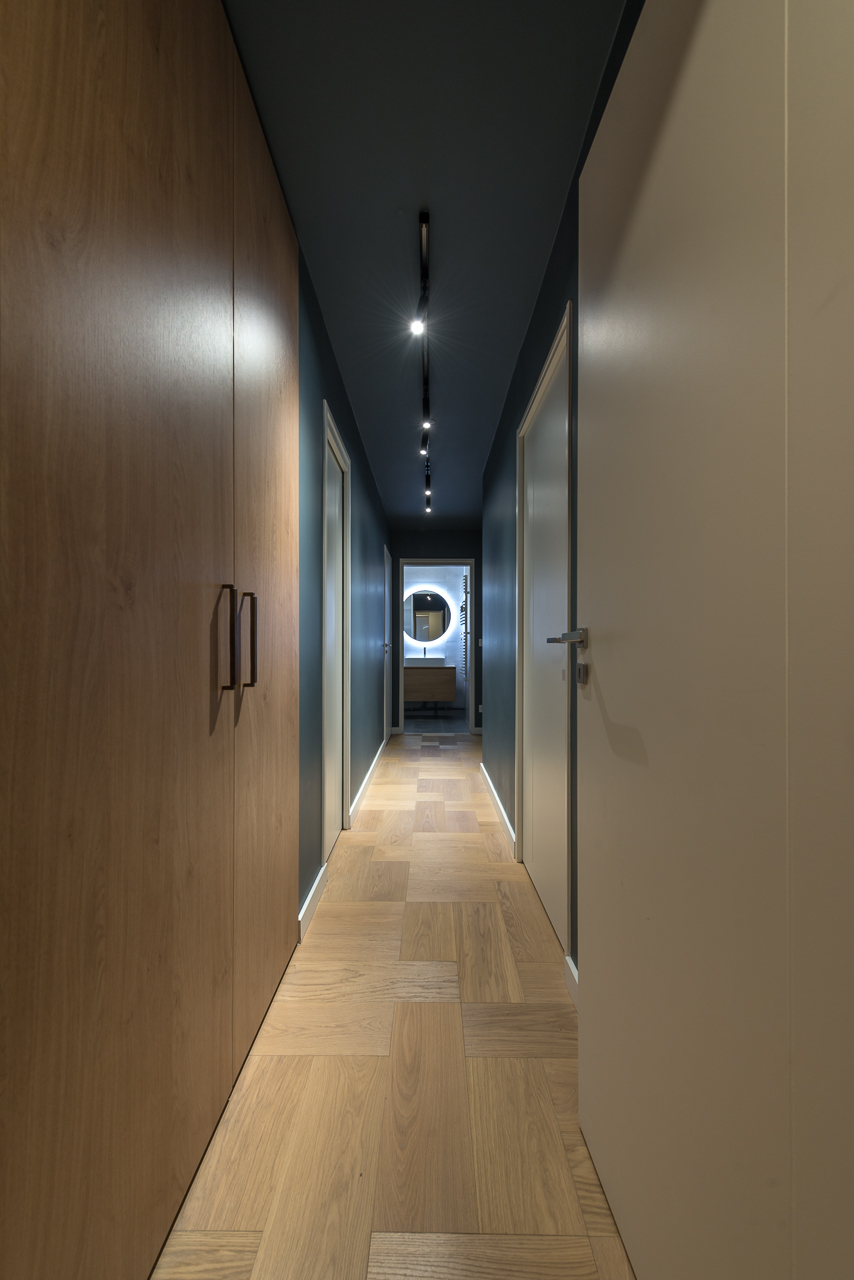 couloir-plafond-peint-bleu-fonce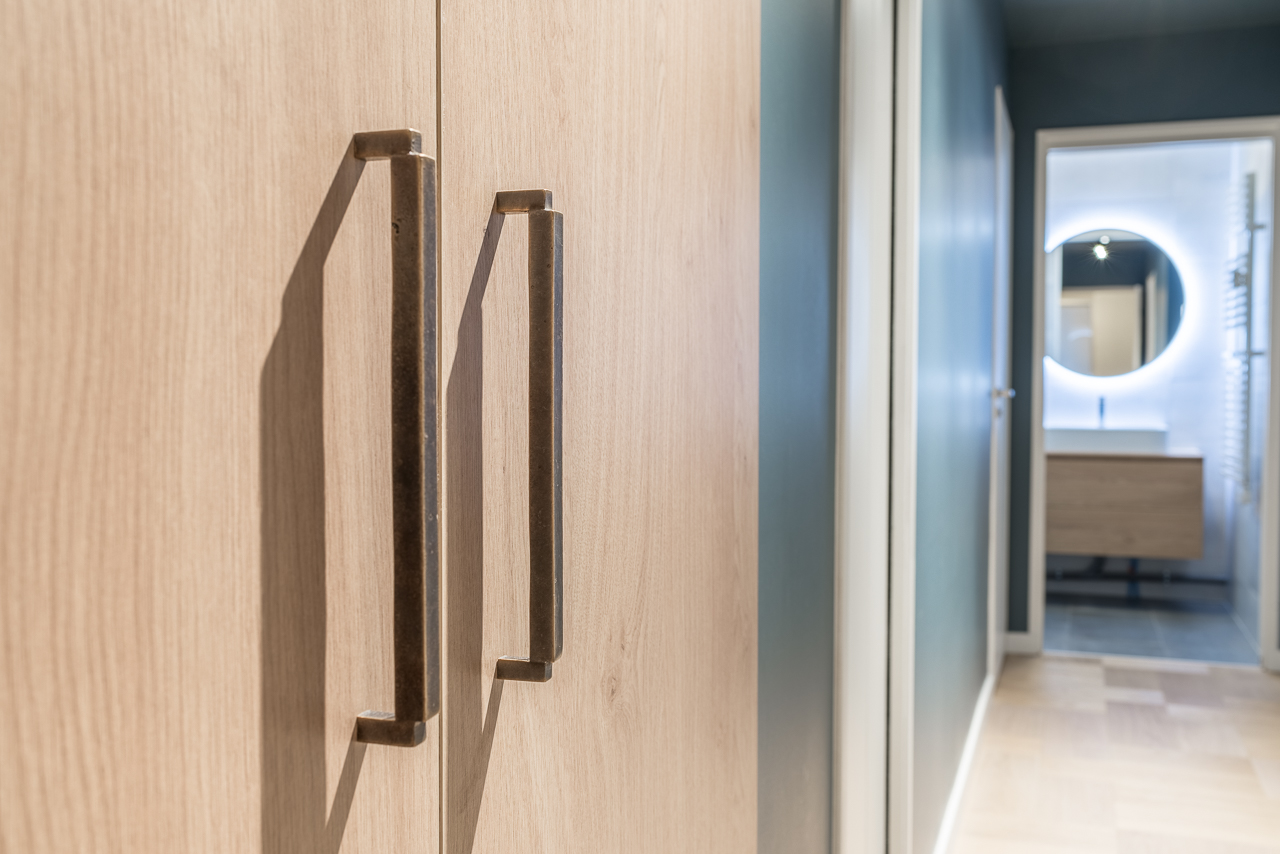 couloir-rangement-detail-poignees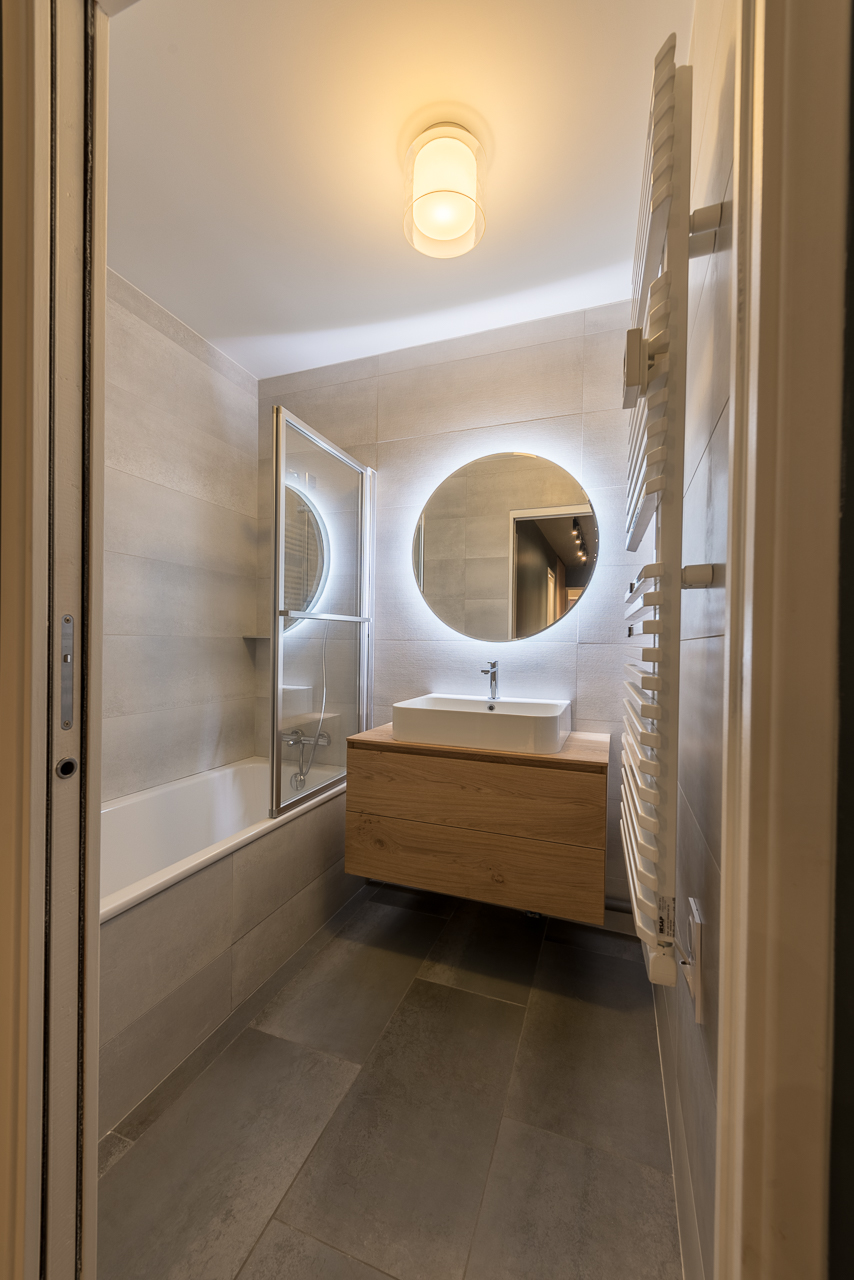 salle de bain-gris-bois-miroir-retroeclaire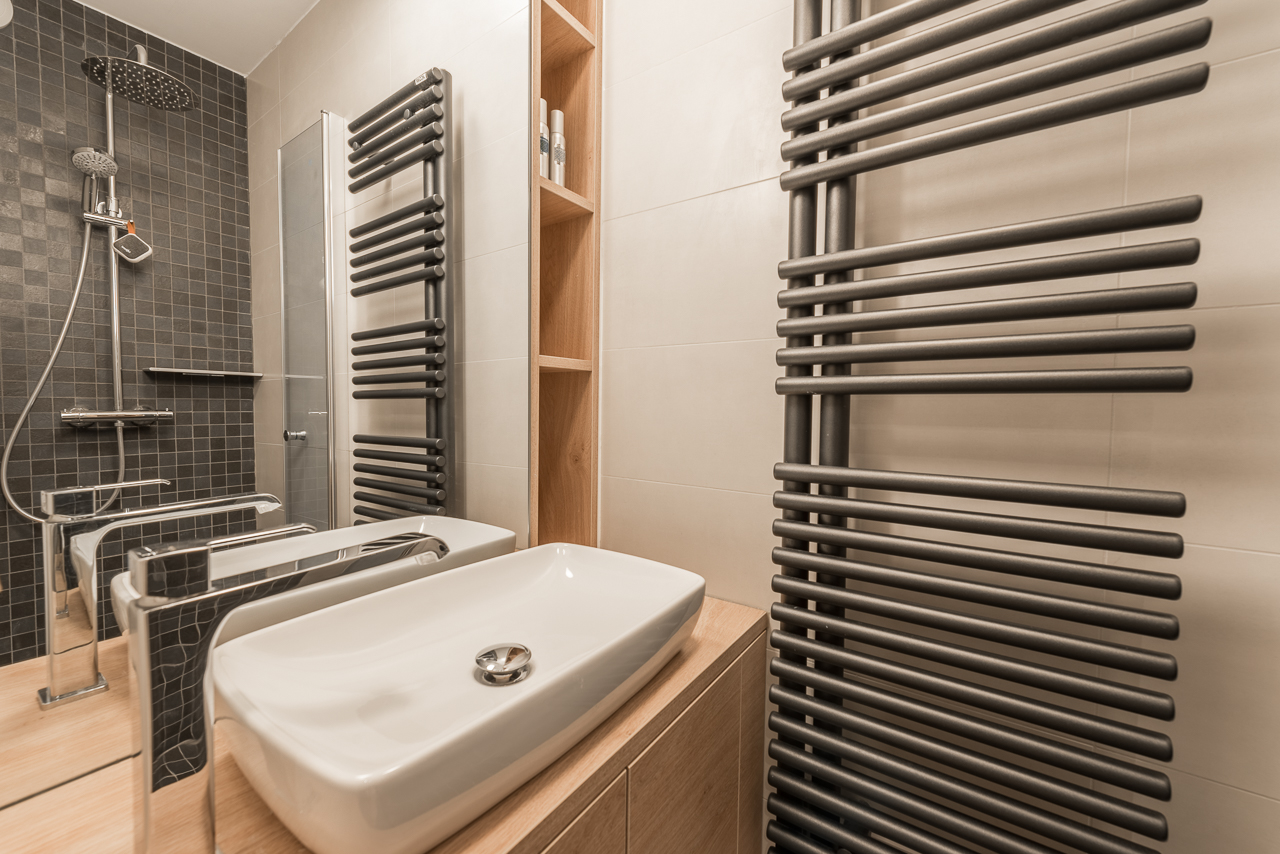 mini-salle de bain-mosaique-noire-bois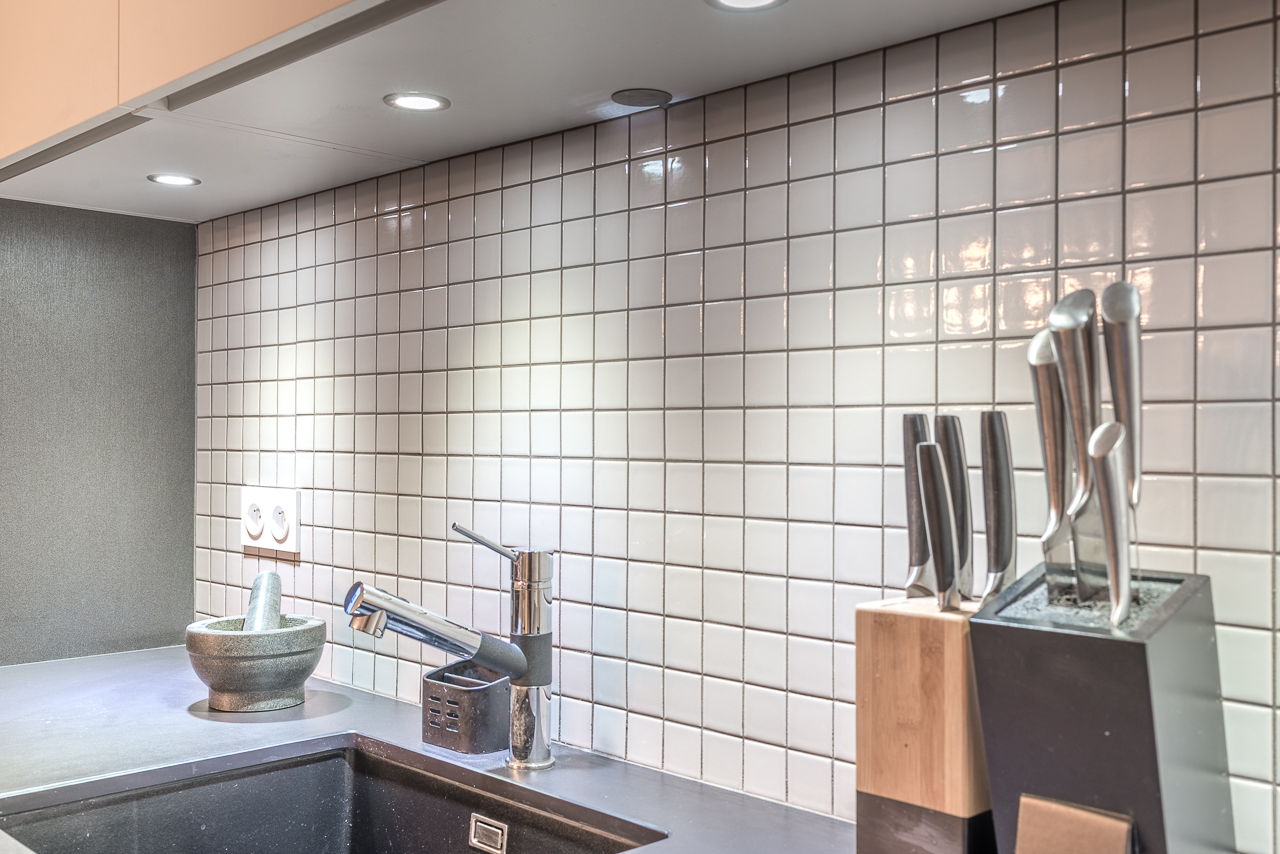 cuisine-credence-mosaique-blanche-joint-noir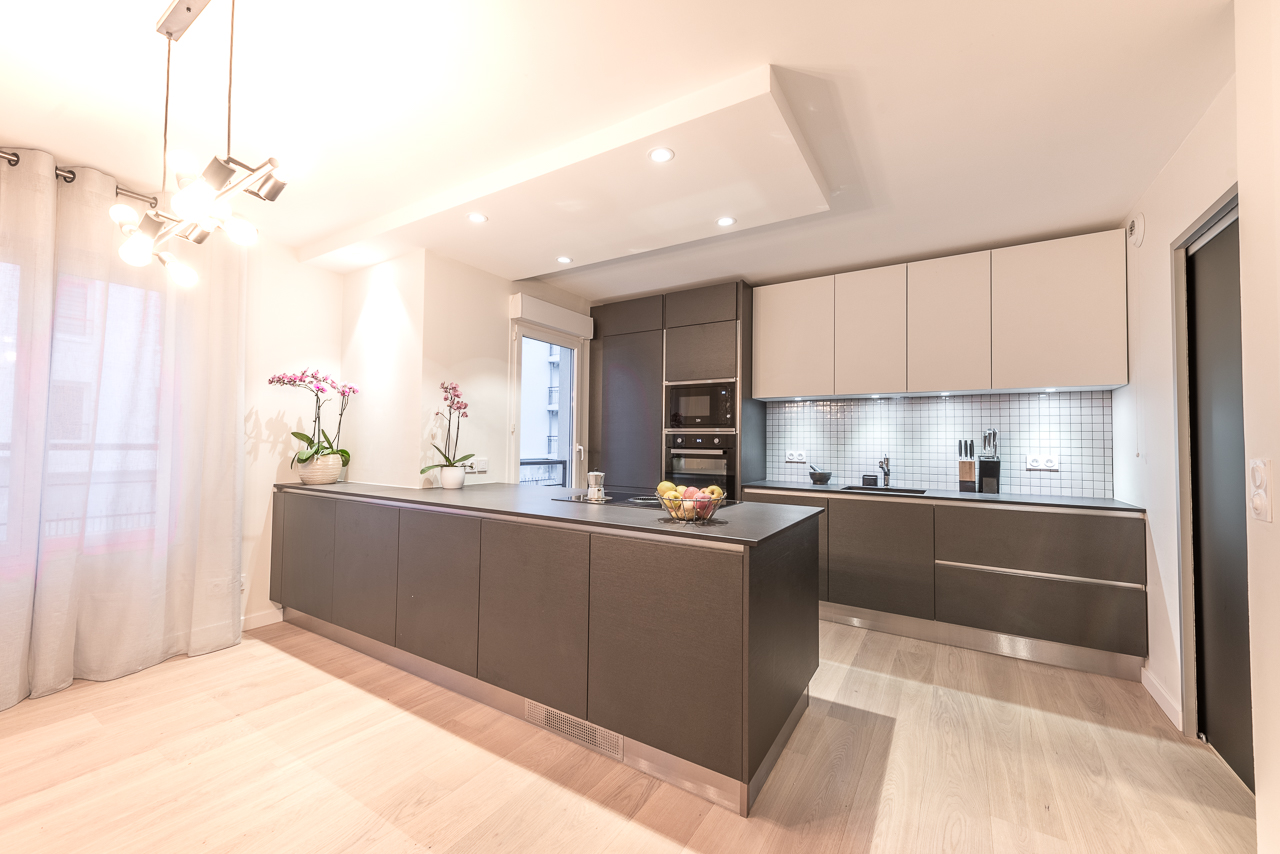 cuisine-ouverte-faux-plafond-separation-vitree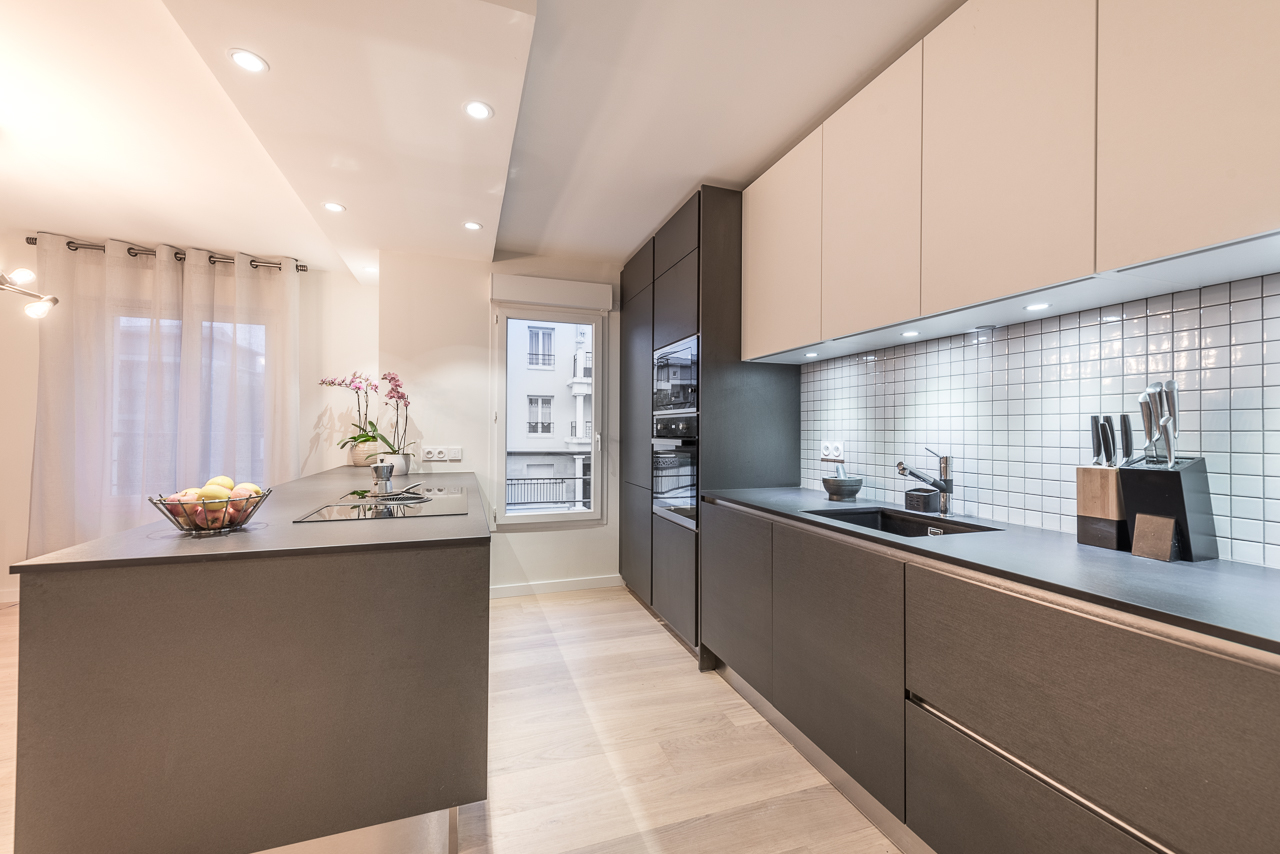 cuisine-ouverte-faux-plafond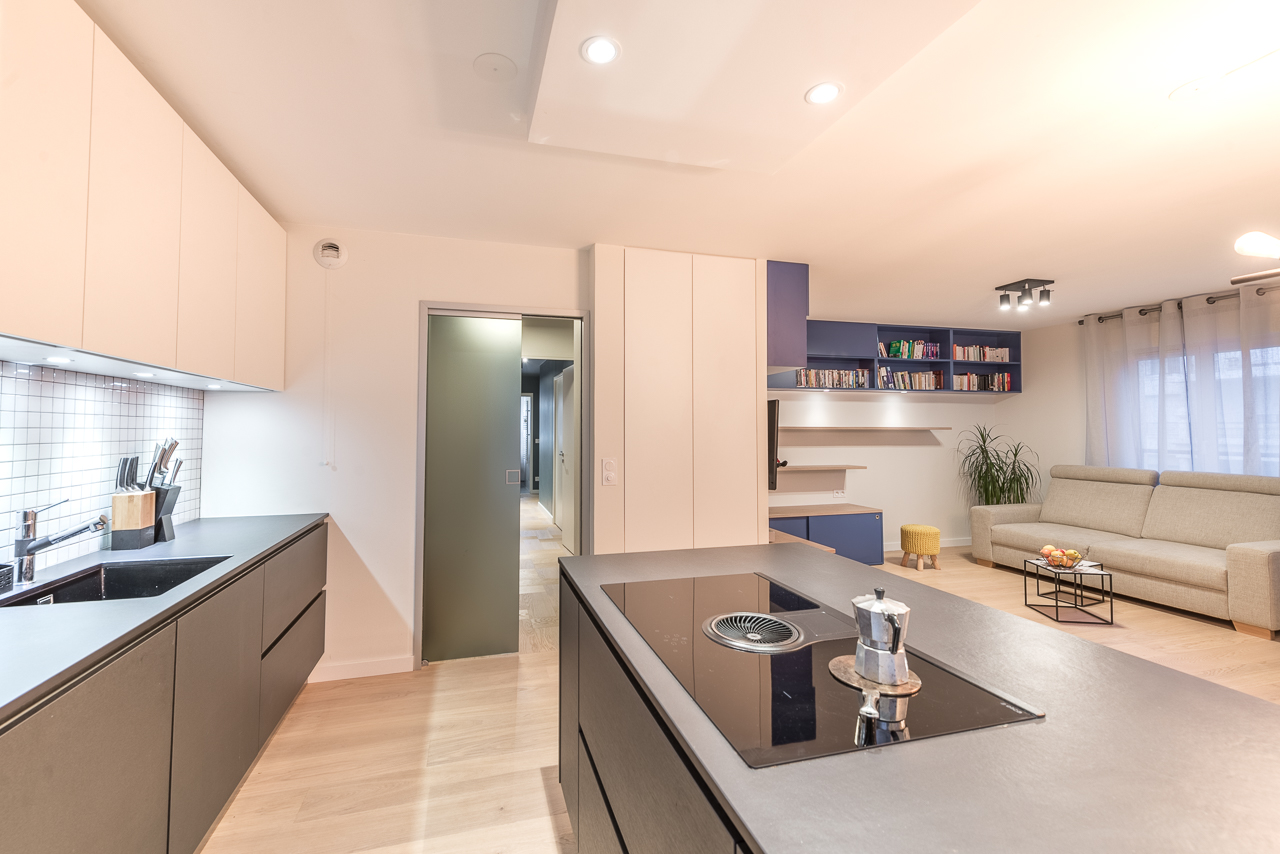 cuisine-ouverte-sejour-separation-vitree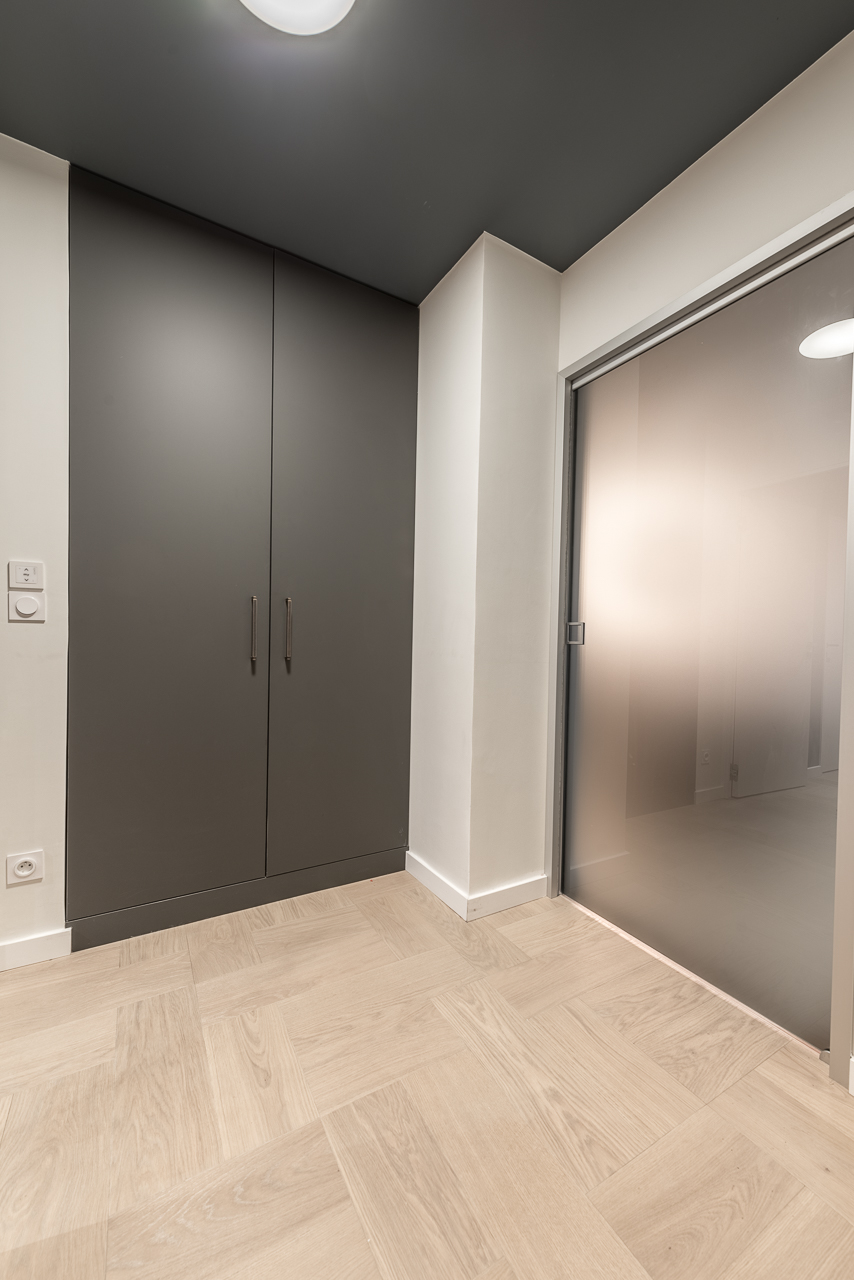 entree-meuble-sur mesure-plafond-fonce-porte-coulissante-vitree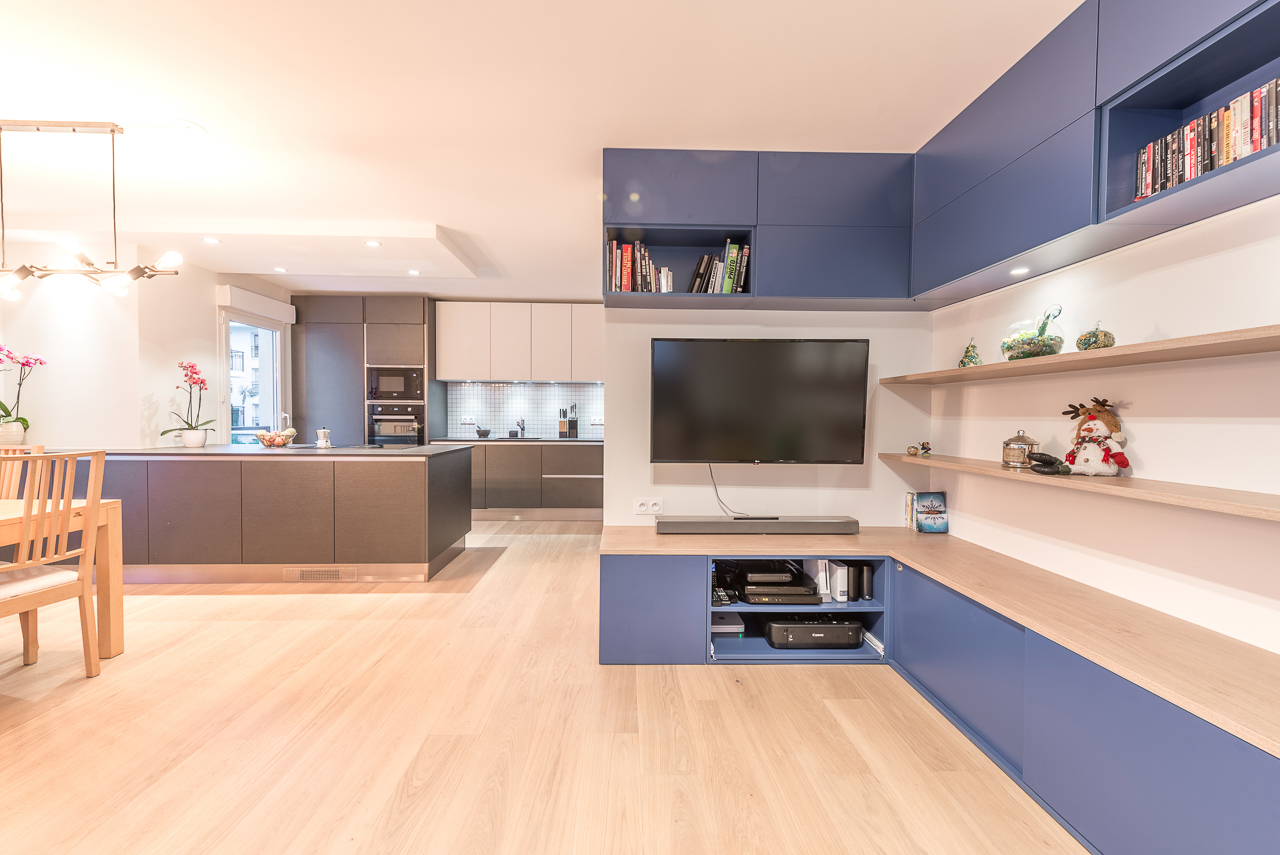 sejour-ouvert-rangement-sur mesure-bleu-2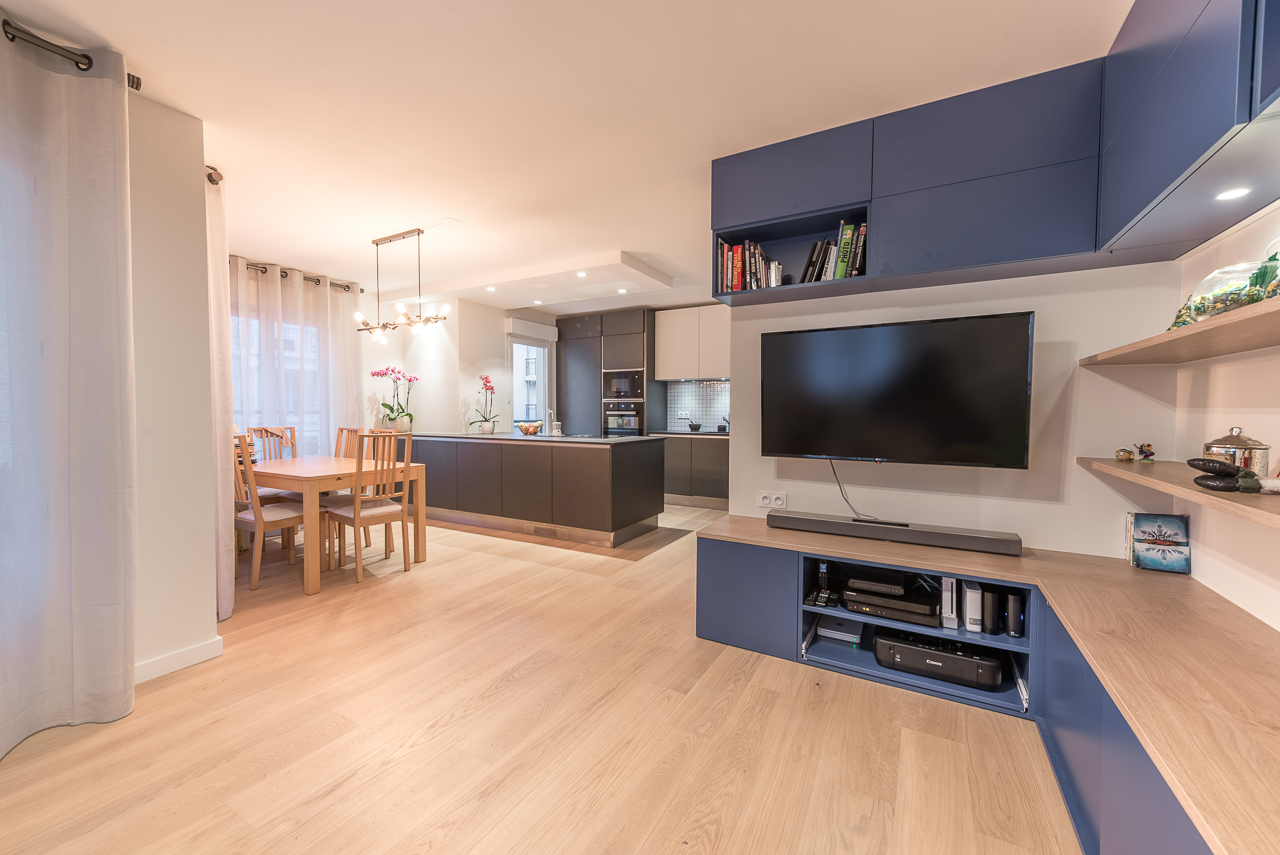 sejour-ouvert-rangement-sur mesure-bleu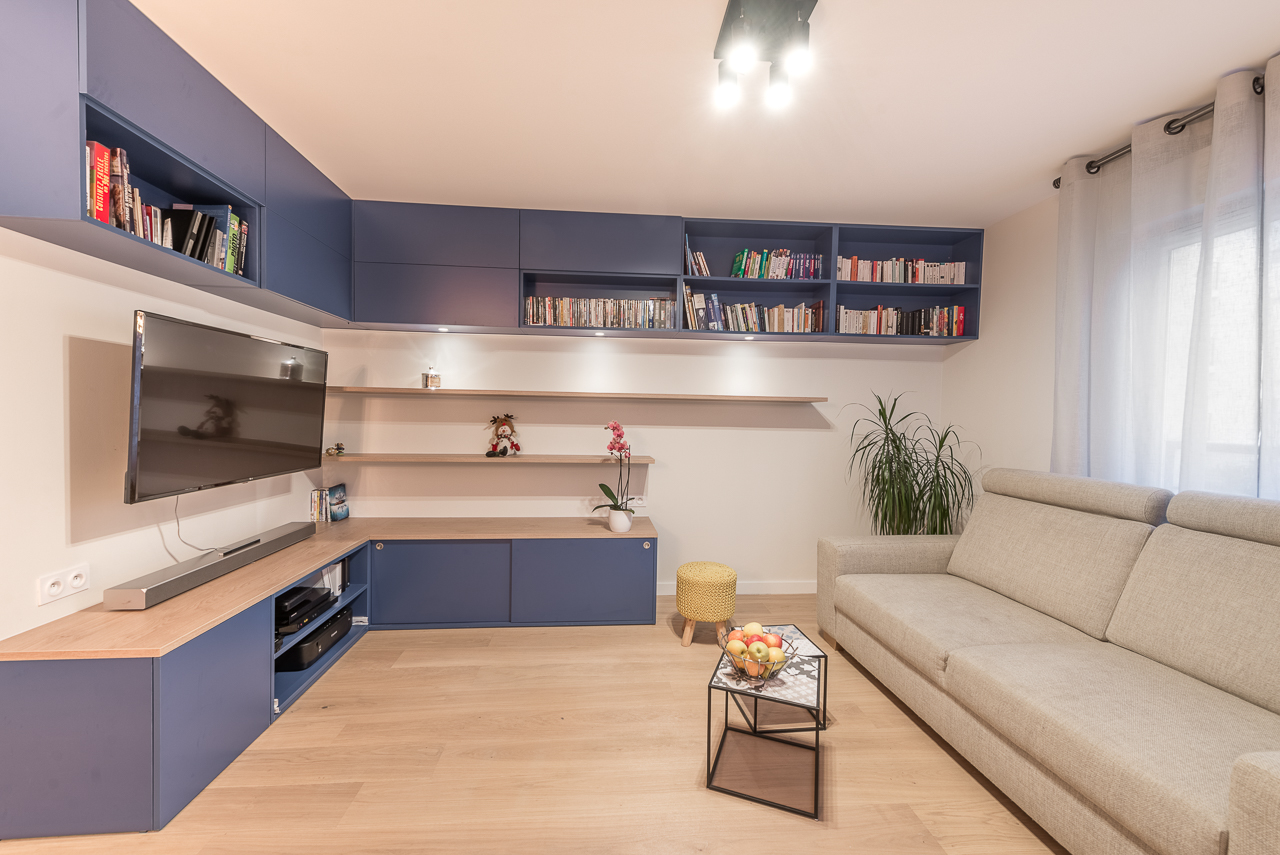 sejour-rangement-meuble-tv-sur mesure-bleu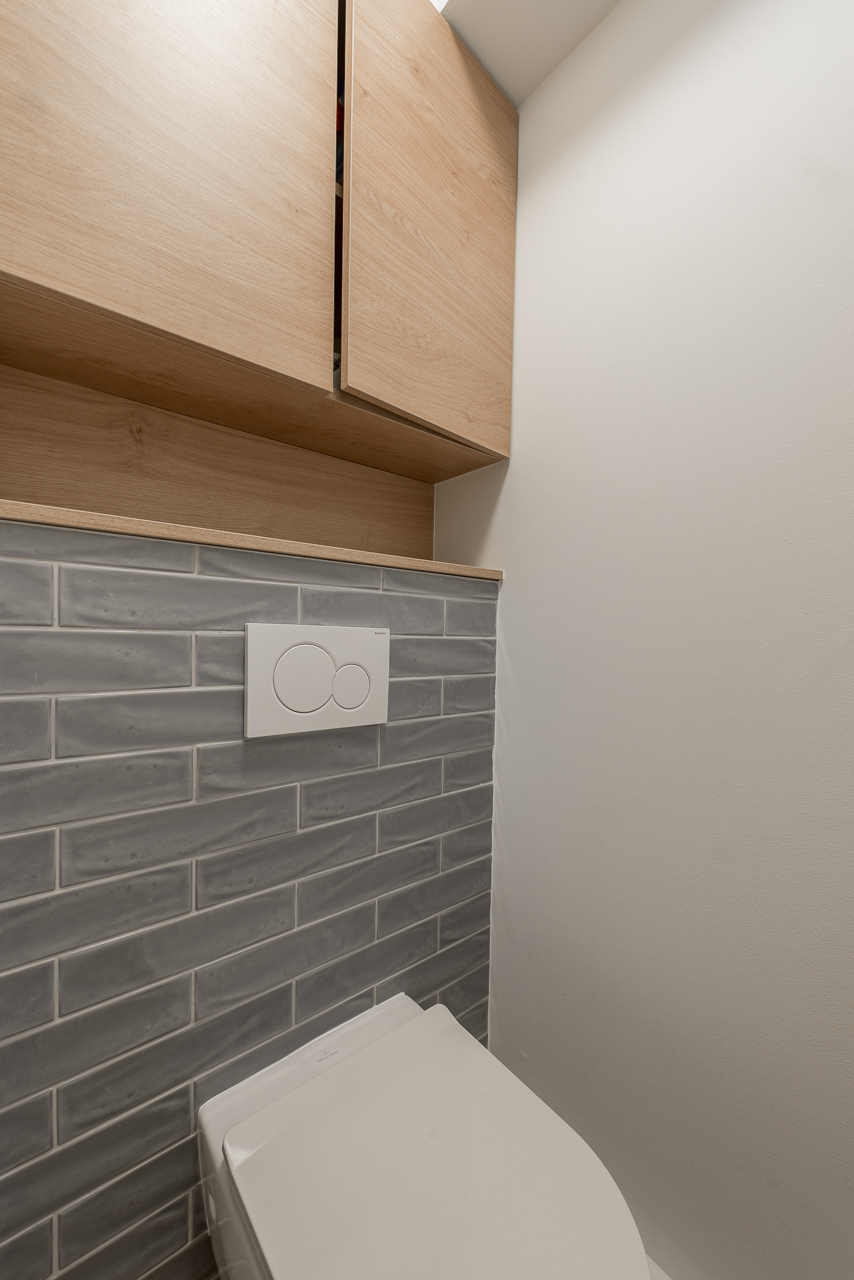 wc-faience-rangement sur mesure
BEFORE/AFTER
the revelation